Red Notice – Movie Review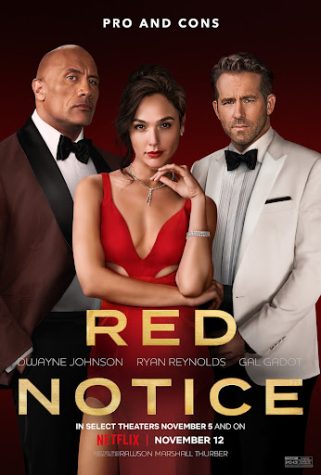 "Red Notice" starring Gal Gadot, Ryan Reynolds, and Dwayne Johnson is a new Netflix film that made its theatrical debut on November 5th, 2021 and its Netflix debut on November 15th, 2021. As of November 19, 2021, it has placed second on Netflix's top 10 in the U.S. today list. 
While watching this movie, I was constantly entertained, but I don't believe this is a movie that needs to be immediately watched. This movie would be a great movie to watch if you and your family or friends were hosting a movie night because while there is a lot of action in Red Notice, the comedy and dynamic between the characters is what made this movie even stronger. 
SOME SPOILERS!  At the start of the movie, it begins with a sort of 'background' to the purpose of the movie. The audience is introduced to two agents, Agent Das and Agent John Hartley, who are on a mission to find Nolan Booth, an art thief and con man. After Nolan Booth escapes with the first of three Cleopatra eggs, Agent Hartley finds him and successfully arrests him, securing the egg only for it to be shortly stolen. Agent Das soon accuses Agent Hartley of stealing the egg and sends him to the same place Nolan was put, a Russian jail. Before Nolan and John Hartley escape the prison, they meet the Bishop, who is the world's best art thief, Nolan's competition.
My favorite scene in this movie has to be the scene where John and Nolan are in the Russian Jail washing their dishes. This is because Nolan looks at John and asks him why he is wearing a hairnet since he was bald, and I thought this was super entertaining and it summed up the playful dynamic that Nolan and John had. This truly was one of the most entertaining aspects about this movie.