Artist Overview and Album Review
Little League's Calm Down I'll Be Dead Before You Know It 
Little League
Little League is an upcoming underground artist from Chicago, Illinois. He is best known for his latest album, Calm Down I'll Be Dead Before You Know It (2021), and his single, THE GRINCH THAT STOLE CHRISTMAS. These are both some of my personal favorites right now. He has been making effective use of the current relationship between social media and music, gaining listeners through TikTok and Instagram. Little League is quite interactive on social media, making live videos almost every day, and he follows me, representative of his strong relationship with loyal fans. League has been more of a successful feature artist than an independent one, crucial to increasing his popularity in the music world.
Little League Instagram: https://instagram.com/littleleague_?utm_medium=copy_link
Single Review: THE GRINCH THAT STOLE CHRISTMAS
This song has a similar feel to the vibe of Calm Down I'll Be Dead Before You Know It's, but also sounds more like some of League's older music. This is to say that if THE GRINCH THAT STOLE CHRISTMAS were on his newest album, it would've felt unfinished, or undeveloped, showing how much Little League has grown throughout the production of his music. The beginning of the song does however address how Little League sees his own progress and how he's grown, which is always inspirational to hear from an artist. Ultimately, I look back on this single as representative of a younger, less developed Little League.
Calm Down I'll Be Dead Before You Know It
Little League created `Calm Down I'll Be Dead Before You Know It'  out of emotion from a breakup. During a previous Instagram Live, he explained "I can make an album so fast, I get sad once and make a whole new album." This makes me believe that this album was made with that same mentality in mind and genuinely. When I listen to this album, I can feel that passion and it makes it all the more personal. All in all, I loved the album and would heavily recommend it. If I were to give the album any type of rating I'd give it a 9/10 and all I can say is that Little League is on his way to becoming a big artist. I especially think you'll like him if you're into Tyler, the Creator, Juice WRLD, or MF Doom. Due to the subject matter of his breakup, the album is quite sad. Furthermore, the songs represent Little League's emotions going through the various stages of grief.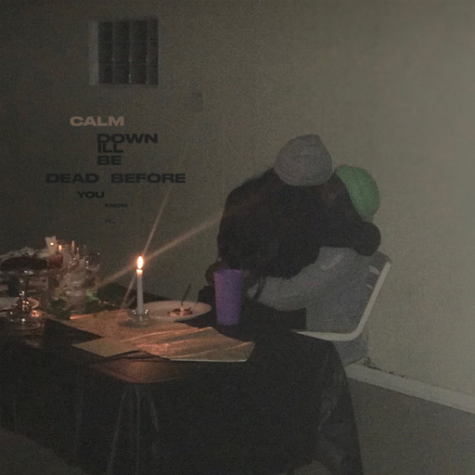 My Ranking of the Songs on the Album:
Introduction

TBH

LIFE'S A GAME

Y.K.W.Y.D

Bitter Sweet

FLORIDA

I STILL LOVE YOU

 Existential Crisis

 P.S.T.M.P

 Playin Pretend Hurts

 OUTRO