Hawkeye Movie Review
Rating: 9/10
Haweye, the latest show in Marvel's fourth phase, was released on November 24th and debuted exclusively on Disney Plus. The show stars Jeremey Renner and Hailee Steinfeld, two well-known actors in the modern film world. 
While watching this show, I was very intrigued and found myself returning to Disney Plus every week to watch the latest episode. This show was probably my second favorite Marvel show, and my first favorite was The Falcon and the Winter Soldier (I also recommend you watch this) because I definitely found The Falcon and the Winter Soldier more interesting and I enjoyed the show a lot more than I did while watching Hawkeye.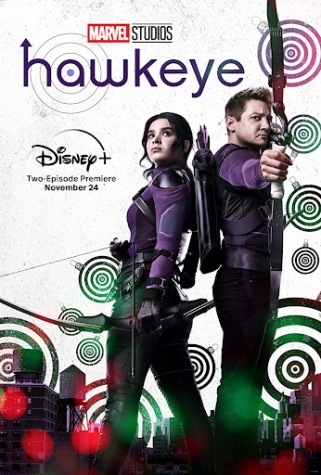 WHAT YOU NEED TO KNOW BEFORE YOU WATCH Clint Barton, also known as Hawkeye, was played by Jeremey Renner in three of the four Avengers movies. Clint was a former special agent of S.H.I.E.L.D, which is a special law enforcement agency; he is known for his impeccable marksmanship and his close relationship to special agent Natasha Romanoff (Black Widow). After Avengers: Endgame, Clint was one of the few original Avengers alive. Clint continued to live a quiet life with his wife and three children. 
MAJOR SPOILERS My favorite episode was the fourth episode because that was when Yelena, the adoptive sister of Natasha Romanoff (Black Widow) appeared at the end of the episode. Although this show is about Hawkeye, I was really happy to see Yelena because of the cliffhanger in the  Black Widow movie ending. 
Yelena entered the episode in a very Black widow style. There were many Black widows in Yelena's entrance and her suit was similar to Black widow's suit in her own movies. Yelena also had cuffs that she used that were the cuffs that Black widow used in every single one of her fights on screen. 
The little details that honored Black widow and showed her importance in Hawkeye and Yelena's life are what made this episode the best and the episode I recommend everyone to watch!!