Kanye "Ye" West Antisemitism Controversy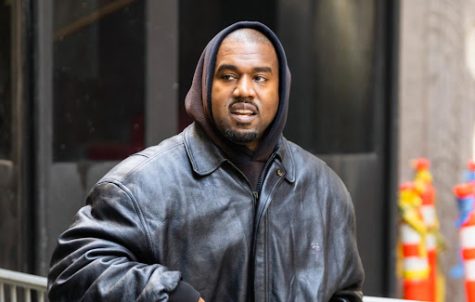 Background
With the recent controversy over Kanye West's tweets and political statements, the internet is buzzing. West, over the span of a single month, criticized societal structure in such ways that could end the career of someone with such a large sphere of influence. Surprisingly, West's fans and conservative names such as Candace Owens quickly jumped to Kanye's defense justifying his actions on Twitter and glorifying his White Lives Matter campaign.
Below is a timeline of West's recent actions:
OCTOBER 9:

West claims he is going to go "death con 3 on Jewish people," an apparent misspelling of "defcon."

OCTOBER 15:

West falsely claims that George Floyd died because of fentanyl, rather than because former Minneappolis police officer Derek Chauvin knelt on his neck for nine minutes. Floyd's family subsequently says they plan to sue West for the remarks.

OCTOBER 17:

West talks about the "Jewish underground media mafia" and says his "death con 3" remarks referred to when "Black musicians signed to Jewish record labels and those Jewish record labels take ownership," which he called a form of "modern day slavery."
Responses
West's comments prompted an outpouring of support for the Jewish community, as numerous celebrities and media personalities condemned the hateful remarks. 
One such person was Kim Kardashian, West's former wife. On Twitter and Instagram, she said, "Hate speech is never OK or excusable. I stand together with the Jewish community and call on the terrible violence and hateful rhetoric towards them to come to an immediate end." However, in 2020, Kardashian posed a possible reason for his actions, telling the world that he struggles with bipolar depression and his "words sometimes do not align with his intentions."
Similarly, comedian Sarah Silverman pointed out the need for everyone, not only members of the Jewish community, to do their part in putting an end to antisemitism. She tweeted, "Kanye threatened the Jews yesterday on Twitter and it's not even trending. Why do mostly only Jews speak up against Jewish hate? The silence is so loud."
Jamie Lee Curtis also spoke on Kanye's actions, reacting to his tweet on live TV during an episode of Today. The actor was on the verge of tears as she reacted to Kanye's tweet when she woke up that morning. "It's bad enough that fascism is on the rise around the world," she said, "but on Twitter, on a portal, to pour that in? As if Jewish people haven't had it hard enough?"
When anti-Semetic hate group Goyim Defense League expressed support for West's comments by unfurling a banner that read "Kanye is right about the Jews" on an overpass above a  Los Angeles highway, celebrities once again expressed their horror at the blatant antisemetism and their support for Jewish Americans.
For example, actress Reese Witherspoon commented, "Anti-semetism in any form is deplorable. In person. Online. Doesn't matter where. It's hate and it's unacceptable." Actor Florence Pugh called the banner "absolutely appalling" on Instagram. These figures, among others, have helped to spread awareness about the antisemetism that has become a widespread issue in America in recent years.
The controversy has also sparked discussion within the Jewish community itself. The Anti-Defamation League (ADL), a Jewish organization whose mission is to fight anti-Semetism, responded to West's remarks with adamant pleas that companies, celebrities and politicians take action and speak out against antisemetism. For example, they called on sportswear company Adidas to drop their widely popular Yeezy brand, which is a partnership with West. In a letter to Adidas CEO Casper Rorstead and Chair Thomas Rabe, the organization said, "In light of Kanye West's increasingly strident antisemitic remarks over the past few weeks, we were disturbed to learn that Adidas plans to continue to release new products from his Yeezy brand without any seeming acknowledgement of the controversy surrounding his most recent remarks. We urge Adidas to reconsider supporting the Ye product line and to issue a statement making clear that the Adidas company and community has no tolerance whatsoever for antisemitism."
Adidas did as the ADL had asked, cutting ties with West, and many other companies followed suit. Here is a list of companies that left Kanye in the dust:
JPMorgan Chase: The U.S bank ended its relationship with Kanye and his clothing brand Yeezy
Balenciaga: After Kanye's "White Lives Matter" statement, Balenciaga cut ties with Kanye; "Balenciaga has no longer any relationship nor any plans for future projects related to this artist," the brand's parent firm, Kering, said in a brief statement.
Adidas: Adidas issued a statement saying, "After repeated efforts to privately resolve the situation, we have taken the decision to place the partnership under review," to which Kanye responded, "F— ADIDAS I AM ADIDAS ADIDAS RAPED AND STOLE MY DESIGNS," ending their clothing collaboration.
Jaylen Brown and Aaron Donald/Donda Sports: Two big figures in the sports industry who signed with West's marketing agency recently left. Celtics star Jaylen Brown denounced Kanye's antisemitic comments and came out with a statement saying, "I now recognize that there are times when my voice and my position can't coexist in spaces that don't correspond with my stance or my values. And, for that reason, I am terminating my association with Donda Sports."
Sources