Review of She Said
Rated:R Length:2hr 9m Streaming:Peacock
In nature, there is constant change. A change in the environment can cause an ecosystem to thrive or die. These changes cannot occur without a cause, without an action. The movie She Said tells the story of what a cause, an action, can do to the world.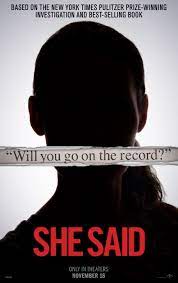 She Said tells the story of how journalists Megan Twohey and Jodi Kantor wrote a report exposing Hollywood producer Harvey Weinstein's sexual abuse allegations. However, the movie doesn't just talk about how hard it is for women to go on record regarding sexual abuse, but also about women's struggles in the workforce. Before writing the report, Megan Twohey had received death reports for another article on sexual abuse. Before writing the report, she had experienced postpartum depression, and Jodi Kantor had postpartum depression with her first child. The media never really talks about what women go through when having a child; this movie shines a light on that.
Overall, I liked the movie. The story is pretty straightforward, so the actresses brought it to life with their performances, which is the best part of the whole movie. I also think it wasn't boring or too long. In recent years movies have gone down in quality. Most movies being released now are longer than two hours and don't need to be. This movie, even though it's more than two hours, doesn't feel dull, and you're just on your seat waiting to see if the writers succeed. If you like movies about current events and journalism, like Spotlight or The Post, you should definitely watch this film.
Writer: Mara Duque Ruiz Editer: