Best Things in Manhattan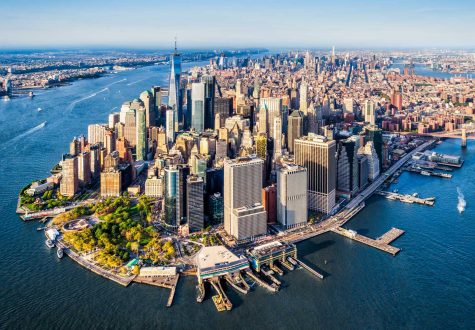 In the city that's always moving, it's surprising how often it seems like there aren't enough places to go. I often find myself trying to think of something to do, which is strange since there are hundreds of guides with hundreds of recommendations of places to go, things to do, and great food to eat. But, the idea of going through all of these lists seems insurmountable, so I developed my own list of the best restaurants, museums, and activities in Manhattan. These are just recommendations, entirely based on my opinion and personal experience. So I'm sure there are many great places left off due to the fact that this list is based on places I've been to, and I'm certain I haven't been to every great restaurant in Manhattan. 
Restaurants
Serendipity 3
Located in the Upper East Side, this is probably the most well known restaurant on this list. It's been featured in multiple films, and is known for its unique ambience, iconic Tiffany lamps, and world-record-setting dishes, if you're looking to drop $1000 on a sundae. They describe themselves as a "place where artists and actors of both the past and the present come for inspiration." This is definitely the type of place that would be best for a special occasion, since the food is on the pricier side. However, the food, especially the desserts, come in large portions that are great for sharing.  
Sevilla
I've been going to Sevilla since before I could speak, and for my family, this restaurant is a staple. As soon as you walk in, you immediately feel pulled into a different era, as you process the red decor and cozy feel. This is no accident, as the original wood bar and ceilings are still intact from when it was an Irish pub over a century ago. It's the oldest Spanish restaurant in New York, yet the traditional Spanish food still stays delicious. Every dish is satisfying and immaculately spiced, and this is one restaurant that never disappoints. 
Moustache 
Very close to Sevilla, the Middle Eastern restaurant Moustache offers a wide variety of delicious specialties. I would recommend any version of the pitza, but the Lahambajin Pitza is especially tasty. It's a fairly small restaurant, so if you plan on coming here at a time that is typically busy, it's probably best to make a reservation. 
Black Tap
I had wanted to go to Black Tap for a long time, after seeing the towering, delectable-looking milkshakes that are a staple of this establishment, but I finally went for the first time a few weeks ago. It definitely lived up to my high expectations, and although the outrageous milkshake was the perfect way to end the meal, the reason this restaurant secured a place on this list is because of their burger. It was genuinely the best I have ever had, and I am something of a burger fanatic.
Jacob's Pickles
The only restaurant on this list located in my neighborhood (Upper West Side), Jacob's Pickles is the perfect place to go with a group, since one of the characteristics of this restaurant is its large portions specifically meant for sharing. If it's a smaller group, you will definitely have leftovers. Serving traditionally American cuisine, Jacobs Pickles is a great place to go when you're looking for simple, great food. This is one place where it's probably always necessary to make a reservation ahead of time, since it's always bustling. 
Little Cupcake Bakeshop
Technically, this is a bakery, not a restaurant, but it has recently become such a staple in my life that I felt I had to include it. I first came upon Little Cupcake Bakeshop in a Netflix movie (you can try to guess which one), and decided that I had to try it for myself. The dessert I was treated to was genuinely mind blowing. The only part of this bakery that's as good as the bakery items themselves is the decor. As soon as you walk in, after processing the tempting treats lined up in rows, your eyes go up to the sparkling chandelier. You truly feel like you have been transported to a movie set or some other magical world.
Museums/Arts/Activities
Brooklyn Museum 
This is the only location on this list not in Manhattan, which shows that it was so important that I couldn't leave it off this list in good conscience. Some might say that this makes me an uncultured swine, but I have never enjoyed museums. The idea of standing for hours, looking at art that I can rarely relate to has never appealed to me. However, the Christian Dior exhibit at the Brooklyn Museum is one of very few museum experiences I truly enjoyed. They have rotating exhibitions of fashion and culture, and currently I would definitely check out the Off-White Figures of Speech exhibit (dedicated to late creative visionary Virgil Abloh) and the Mugler Couturissime exhibit.
NYPL Flagship Branch (Stephen A. Schwarzman Building)
As students, we tend to have a lot of work, and it's often hard to find the space to focus. If you have the time, the NYPL Flagship Branch ( right outside Bryant Park) is the best place to reach a state of focused calm. I have always found myself most at peace in libraries, which makes them the perfect place for homework and studying. It's hard not to admire the grand architecture of this library, and as soon as you look up at the high, arched ceilings, it will be impossible not to be mesmerized by the dreamy murals that depict all sorts of creatures and characters. This library also has a store with a great selection for your favorite bookworm. 
Park Avenue Armory
The Armory is not your typical museum, as every installation is more like an artistic experience. The limited-time "exhibitions" can vary from film, to dance, to opera, to a sort of nightclub-esque room where the visitors themselves become a part of the art. It's described as "avant-garde" for a reason. If you visit the Armory, it's likely that you will become submerged in the art and interact with it in a way that you would never expect at any other "museum." The art itself is made even more interesting by the Armory's history. First built in the mid-1800s by a group of militia that responded to President Lincoln's call for war against the South, it somehow manages to balance industrial wartime architecture, with elaborate decor and sky-high ceilings. The best time of year to pay a visit to the Armory is definitely during the holidays, when it's decorated with towering, gorgeous trees fully decked out in ornaments and sparkling lights.
Wollman Rink Ice Skating
Central Park is undoubtedly one of the most well-known parks in the world, so it makes sense that the best ice skating rink would be located there. The best part of Wollman Rink is that while you're skating, you're surrounded by the beauty of Central Park. Depending on what day you go, it might be advisable to make a reservation and book ahead since it can get crowded during the peak of winter and the holiday season. It's also less expensive off-peak, so if you're on a budget that's probably the best time to go.
Works Cited
About us : Building history. Park Avenue Armory. (n.d.). Retrieved January 11, 2023, from https://www.armoryonpark.org/about_us/history 
History – sevilla restaurant & bar. (n.d.). Retrieved January 8, 2023, from http://www.sevillarestaurantandbar.com/history.html
Metmuseum.org. (n.d.). Retrieved January 11, 2023, from https://www.metmuseum.org/blogs/now-at-the-met/2021/building-and-caring-for-the-met-collection#!#:~:text=The%20Met%20collection%20is%20among,5,000%20years%20of%20human%20creativity. 
SERENDIPITY3. Serendipity3. (n.d.). Retrieved January 8, 2023, from https://serendipity3.com/ 
Thierry Mugler: Couturissime. Brooklyn Museum: Thierry Mugler: Couturissime. (n.d.). Retrieved January 10, 2023, from https://www.brooklynmuseum.org/exhibitions/thierry_mugler