Sour: An Album Review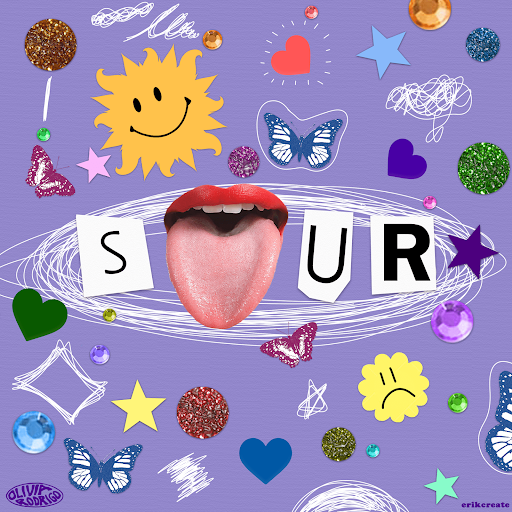 It all started with a single song- drivers license. I vividly recall the first time I had ever heard this song; laying in my pitch-black bedroom, on the phone with one of my friends who was also an avid Rodrigo fan. The melancholy piano melodies meshed with the entrancing backing track of the song had me hooked the second I heard that first note. And then I heard the most magical, almost spiritual tune of Olivia's amazingly written bridge. My heart stopped and my jaw dropped. It seemed like every single lyric in that song was written especially for me. That was the moment I knew that Olivia Rodrigo would be one of our world's biggest stars. A couple months after releasing this single, Olivia Rodrigo took the world by storm with her debut album, Sour on May 21st, 2021. This album is a collection of 11 thoughtfully written tracks all about the roller coaster of emotions you go on while going through a major heartbreak. Each track is so unique, and that's what makes listening to this album such an unbelievable experience.
Personally, my favorite song on this album is favorite crime- I just think that this song is so cleverly written, with all of the metaphors comparing someone breaking another's heart to a crime being committed. Some of these powerful lyrics include, "I was your willing accomplice, honey" and "I watched as you fled the scene", which perfectly accomplish Rodrigo's goal of conveying the message that a heartbreak isn't only the fault of one person. But, my all-time favorite lyric in this song, maybe even the whole album, would have to be, "One heart broke, four hands bloody." The visual imagery crafted by Rodrigo in this specific line of favorite crime does an amazing job at making us listeners visualize the two people responsible for this single heartbreak. 
I also asked Ciara O'Reilly, my fellow Rodrigo stan, about which song on the album was her favorite and why. She explained that her favorite song was deja vu; she not only describes this song as a "punch", but also how the backing tracks are phenomenal as well. That's another reason why Olivia Rodrigo is proving to be one of the most talented artists of this generation: the production value on each track is so unique, making listening to each individual song such an experience. 
If you haven't been living under a liter rock for the last several years, you have probably already listened to Sour, but this review is for the people who haven't. For people all over the world, this album has been labeled as life-changing, and I strongly believe that everyone's ears should be blessed by Rodrigo's incredible lyricism. That's why right after you finish reading this review you should run home to your families, gather around the first electronic device you lay your eyes on, and stream Sour on all platforms, like, immediately.