Student Senate Yearly Update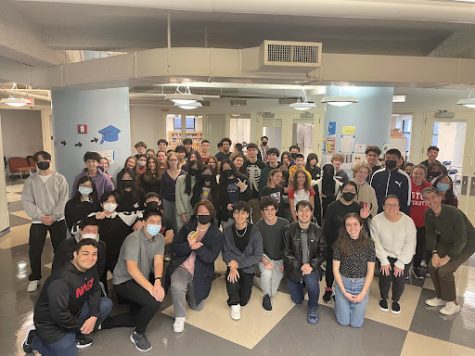 For the first time in The Phoenix's history, we will be doing an update on the Student Senate and  the goals the group is trying to accomplish. We have strived to make the Millennium community as connected to the school as possible, so we will reveal projects, accomplishments, exclusive interviews, and much more to give insight into what the Student Senate currently looks like. For our first insight, Speaker Kaian King gave us an understanding of the dynamic of the group.
Kaian: A transition year for the Student Senate. We're trying to organize and plan for the school. We want to ensure everyone has a voice that contributes towards a goal the school could work towards. Some things we are trying to accomplish are having morning announcements, planning field trips (trying to get a field day by the end of the year), tissue boxes within all the classrooms and anything students feel would add to overall experience in the classroom. Most accomplishments would come towards the end of the year since the Student Senate was not active whatsoever last year, due to the recent pandemic. Having a place where students can share their thoughts and have a collective voice within the school is the biggest accomplishment we've had. We were able to get many new members who were interested in being speakers to represent here.  
I also got to speak to a member of the Student Senate, Evelyn Mullen Walsh, about her views on the Student Senate. 
Evelyn: Student Senate definitely has some room for improvement because it's still in its infancy stage. It needs to be developed more as a whole, but I think the attention and core it's maintained is good. Our biggest problem is that some members aren't committed. The people who don't commit overall destroy the functioning of each committee. Additionally, we need to have better communication with the administration because our ideas are not being transformed into actions. 
Furthermore, I had the privilege to speak with Junior Speaker, Max, on his impressions on the Student Senate. 
Max: Student Senate is very raw and unpolished. It's at a state where it's chaotic and there's too much going on at once. There's too many things that should get done faster but are taking an eternity to finish. Speaking of goals and hopes, I would want it to be more set in stone and discuss the more important issues, especially how raw and crazy it's gotten this year. However, I do think that we are doing a good job with what we are given. It's a great opportunity that I'm given to represent my grade and I don't want it to go to waste. In fact, right now the Student Senate is planning a field day trip to Governors Island along with many others to come. The main part of the field trip will consist of all advisories competing for different prizes in mini games.
Mr Stone, one of the facilitators of the Student Senate, even had some comments of her own to weigh in on the current situation 
Mr Stone: I've been very proud of the work the Student Senate has done so far. It's really hard to start in its first year. I like how organized our speaker and leadership in the Student Senate has worked to address concerns students have had this past year. I am also excited to get to work right away next year.  I've heard really good things about the participation in the leadership team and representation of students. We brought back the morning announcements, got field day on the horizon, and now are focusing on the needs of students within the school. So I believe the Student Senate is in a great position especially with our senators implementing a system that works for us all. 
As you can see, the Student Senate has made lots of progress throughout their first year. Lots of focus has been put towards a proper representative system, a school wide field trip, and a place where all students can address their questions and concerns. Participation and representation have been key parts as to how the development of the Student Senate has reached school wide and the goals have been recognized more and more throughout the year. Although students have not felt progress throughout this year, the expectations will certainly be met sometime in May or June. An example of this is with the creation of different sections to focus on specific needs: public relations, academic affairs, government and standards, and student organizations. Overall, the Student Senate is slowly making progress and working on putting the students first.