Depression in Millennium – How are you feeling?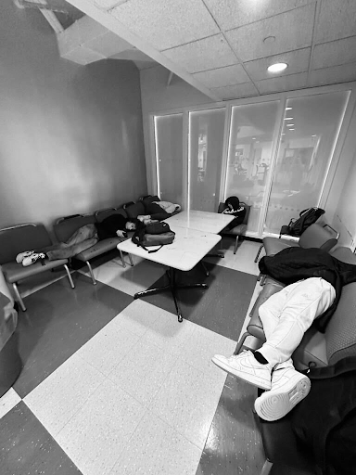 Have you ever looked around Millennium and questioned if, despite the smiles, your classmates or teachers are actually happy? It may sound bleak at first, but taking a deep dive into research revealed an interesting truth. I began doing some personal interviews with a variety of students and teachers by asking the following questions:
Do you personally feel that the Millennium workload is overbearing?

Do you have familial issues at home that are hard to bring up?

Are you currently seeing a therapist?

How much time does it take to finish your homework?

Do you have issues at school that are difficult to bring up?

Would you rather go to school in person or online?

Are you extremely saddened or depressed?
Here is the resulting data collected from both students and teachers at Millennium: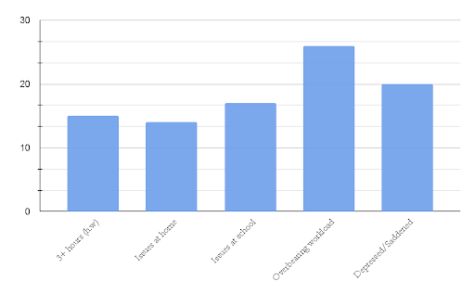 Here's the breakdown of the data: 15 students were surveyed to spend over three hours on their homework (without stating a range of a lower number, ex., two to three hours, one to three hours, etc.). These students also reported that the Millennium workload was "alright-overbearing." None of them reported the workload to be not overbearing at all. I concluded that all who spent over three hours on their homework either have issues at home, problems at school, are depressed, or multiple of these options.
Having issues at home, school, or just being depressed can very clearly affect your overall performance in an educational environment. After speaking with Mr. Becker, he stated that "assignments (that are not projects) on average should take about 20-25 minutes." According to the national institutes of health, extra stress placed upon students negatively impacts their academic performance: "(Stress) develops when a person cannot handle their inner and outer feelings. When the stress … exceeds a certain level, it affects an individual's mental health and may lead to different psychological disorders, such as depression… Depression leads to decreased energy, difficulty thinking, concentrating, and making career decisions." From our data, we have discovered that students who spend more time on their homework compared to their peers are proven to have stress factors placed upon them.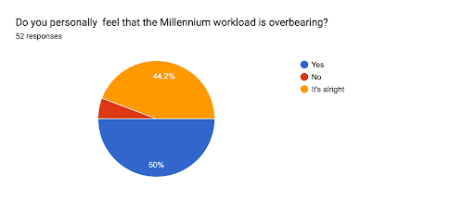 Of 52 students, 26 agreed that the workload was overbearing, and 23 reported it as "alright." We discussed earlier stress factors that come from outside sources, such as familial problems, simply being depressed, and more. This data raises the question: if only 3/52 students don't find the workload to be overbearing at all, could that also play into the overall "mood" of our school?
Often described as rigorous, Millennium High School aims high for its students with its no late policy, no extra credit policy, and so. many. more. policies. I applied to Millennium High School, understanding this aspect of it. I have stayed up late completing projects, picking up the slack from partners, and working hard on everything I was tasked to do. Others, including myself, are fine with this aspect of Millennium. One may ask, "So what's the problem?" The problem is the competition we create for ourselves, aka social comparison. As I walk around our school building, all I hear people talk about are other people's grades, tests, and GPAs. Although social comparison helps with self-development, it can and does get out of hand. Many who attend Millennium High School feel "smaller" than their peers or like they are doing worse than others. Constantly comparing ourselves drags down the school's atmosphere and creates unhealthy competition.
It's important to remember the following things. You are not a reflection of your classmates. I understand that school is tough. "School" isn't just about learning and doing your homework. As demonstrated, many factors play into it. One may ask, "what is the answer to making this simple? To just have school, study, and do your work?" There is no answer. All we can do is make our situations around it better. Your high school experience has a lot to do with what's happening in your life outside of academics. So take care of yourself, try to better yourself, and check in with yourself. And remember: this too shall pass.
If you feel like you could use a check-in that is completely anonymous, use this link: https://forms.gle/kJH1ENUnpHG4s3zB8
Sources:
National Institutes of Health, U.S. Department of Health and Human Services, https://www.nih.gov/. 
Link To School Data: https://docs.google.com/spreadsheets/d/1NLEY5ZEen3_8tCRMTPZoliMoG2Mj1wcLnRu7yti_OZ0/edit?usp=sharing