What is the worst movie of 2022?
What is the worst movie of 2022? Some people would say an action movie like Thor: Love and Thunder or Doctor Strange in the Multiverse of Madness. Other people might say the star-studded Amsterdam. I would, of course, say Elvis, a three hour long biopic, was the worst movie, which thankfully won not a single oscar it was nominated for. But most "movie critics" would say that the worst movie of the year was the one and only Babylon, for reasons such as a confusing and badly constructed plot.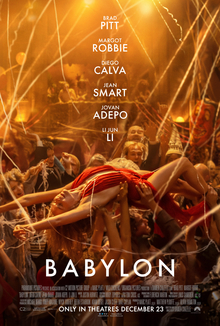 When silent films turned to talkies, many actors lost their fame. Babylon tells the story of the rise and fall of multiple characters in the film industry during the 20s era of Hollywood. It is a three-hour and nine-minute long film. It's directed and written by Damien Chazelle, who also wrote and directed Whiplash and La La Land, two movies that were nominated for numerous Oscars, including best picture. So how did such a well-known director make a movie that many classify as bad?
Well first it was not marketed well. For having such a huge budget it was barely marketed. If I'm being honest with you I didn't even want to go see it. I thought it was going to be boring, but I was surprised. The movie is also really weird. If you were to ask someone to describe this movie with one word, they wouldn't be able to. Many would say that's a problem: the film can't convey its message, but in my opinion, it does. Babylon is an experience. A movie that, once you finish watching, you're changed forever, representing the movie's message. It's a hate letter to Hollywood but a love letter to film. It's what film is all about. It criticizes how Hollywood has always been corrupt, racist, greedy, and more. 
I would also like to talk about how much of a disappointment it was that Babylon didn't win best score at the Oscars, considering how absolutely incredible it is. Similarly to Whiplash and La La Land it has an amazing soundtrack. The rhythm drives the movie and adds tension and excitement in every scene. It has a soundtrack that leaves its viewers listening to it on repeat, and  demonstrates the constant adrenaline that the movie has.
This movie is one of my all-time top films. It did what every movie should do; change you. I walked into that theater expecting the bare-minimum, and walked out utterly shocked. That says a lot, being that I'm not a very patient person. Movies have gotten longer and longer throughout the years. Although the film could have been cut down, I wasn't sitting there thinking about when it would end. And while, yes, the movie doesn't really have a conflict for the first thirty minutes, that didn't bother me. If you're going to see Babylon, don't try to figure it out; experience the movie and prepare to be changed.