True Beauty Review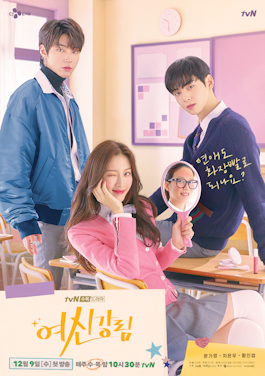 True Beauty Review (no spoiler) 
Michelle Mei
Television Series: True Beauty 
Total # of Episodes: 16
Status: Completed
Adapted from a popular webtoon by Yaongyi, the South Korean television series, True Beauty became a big hit in 2020. Being a show that revolves around romance and comedy, it's evident why many seemed to enjoy the series itself. With a total of 16 episodes and about an hour's worth of watch time every episode, the show is pretty lengthy. Despite that, the drama itself has kept many audiences like myself watching until the very end. So that leads us to the question, "Is True Beauty worth the watch?". 
Plot (7.5/10)
The plot in "True Beauty" is pretty straightforward. From childhood, Lim Ju Gyeong has always been known as the "ugly" girl because of her appearance. She is bullied and harassed by family members and classmates earlier as seen in the show, which causes her to attempt to end her life. However, she was stopped by a mysterious stranger, later introduced as Lee Su Ho. After the incident, Ju Gyeong transfers to a new high school because of her parents returning to their old home. There, she starts a brand new life hiding behind her makeup, as people call her an "angel" for a first impression. Since it's a romance-themed drama, there's always going to be a love interest. And the love interest here is Suho, the same person that had previously saved Jugyeong from her life choices. The plot itself is no different from any other romance series. A relationship that starts out rocky then smooths out after the two get to know each other. It follows the generic romance drama and has nothing that different to offer to the audience. 
However, a simple romantic plot about the female and male lead isn't enough to please the audience. That's where the second male lead, Han Seo Jun comes in. Like Su Ho, Seo Jun at first seems to not care much about Ju Gyeong until time passes. He slowly develops feelings for her, making him Su Ho's competition for Ju Gyeong. In most shows, the second leads seemed to have stolen all the spotlight from the female and male lead, and that's exactly what Seo Jun did. He does a great job of portraying a man who had previously lost all and then is determined to get the impossible. Every time Seo Jun appears in the show, he seems to be the center of attention, giving off a dangerous aura. (His arrogant attitude, his fight scenes, etc.) There's just something about him specifically that draws you to him, even though only being the second lead. To be honest, he's one of the main reasons I continued the show, despite the bland plot. 
Another boosting factor is the comedy involved in True Beauty. Sure, many romance related series include their own form of comedy but for this show it was just flat out incomparable. While watching the show, there's been too many times where I've laughed too hard and paused out of second hand embarrassment. Seriously, the comedy in there is insane.
Cast + Acting (9/10)
Personally, I think the entire True Beauty team did a phenomenal job of bringing webtoon characters to life. The cast selection was excellent, as everyone looked extremely similar to the characters in the original webtoon. The actors also did a splendid job of nailing each character's personality, which often can be difficult to do. Facial expressions, postures, everything fit right with each cast member. The amazing cast and acting was another factor that kept me watching, not once while watching did I see a major flaw in expressing each character's nature. It felt especially real to me, and that's what most series fail to do. True beauty definitely passes in terms of careful cast selection and acting.
Music 9.5/10
In terms of music, I never actually pay attention to the tracks in most shows. However, after going back to watch the opening theme for True Beauty, I noticed that it's extremely upbeat and maybe a bit catchy, which fits the theme of romance. After listening to more of the music in True Beauty, like character theme songs, I've realized that a lot of the tracks are actually made well to fit a certain scene or character. For example, Seo Jun's theme, "I Warned," hints danger with its intense repetitive "bangs" of rhythm. The sound of a siren ringing in the background of the music also adds a touch to the definition of dangerous, as sirens are often sounded when something goes horribly wrong. The music production for True Beauty is quite amazing, as most of it has some contrast against what it's being used for and actually sounds decent.
Concluding… is it worth the watch?
To sum it up, it depends entirely on your tastes whether to watch it or not. If you're looking for something new and different, this may not be the series for you, since it does follow the generic storyline of strangers to lovers. Then again, if you're looking for something comedic, this would be a great watch since the series includes an immense range of comedy to give you a good laugh. For me, it was totally worth it. I'm not a huge fan of romance shows, but adding up the comedy, cast, acting, and a compelling second lead, I enjoyed it. The show's a bit long, but it's worth it. Overall, I would rate True Beauty 7.5/10 and most likely recommend it if you're someone that doesn't have anything to watch.