COVID-19 Vaccinations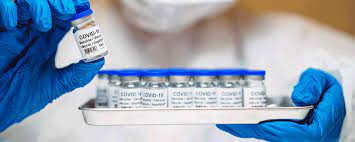 Covid-19 Vaccinations 
by Eric Chen
Finally, Americans are seeing a more return to pre-pandemic life as vaccines for Sars-Cov-2 (Covid-19) have been authorized under an Emergency Use Authorization (EUA) permit. Dr Fauci, the nation's leader of the infamous White House Task Force says that 'We need as many Americans to reach herd immunity as soon as possible.' It is certainly an exciting time as the light at the end of the tunnel shines a bright light. As Americans continue to receive vaccinations, more restaurants and cities will begin opening back up. Although there has been a strange increase in the number of cases directly related after the vaccine program was rapidly administered, many more people are not wearing their mask. Dr. Fauci asserts that people still must practice wearing masks and the CDC (Centers for Disease control and Prevention) urges that social distancing be practiced even after as much as 60% of the USA has received one dosage of either the Pfizer (along with BioNTech's) vaccine and Moderna. 
There are many vaccines for Sars-Cov-2, such as the ones developed by Pfizer, Moderna, and NovaMax. Recently, however, J and J was suspended along with AstraZeneca due to a rare case of blood clotting. Pfizer reported that they had a  90%-95% efficacy rate. The FDA authorized vaccines for 12-15 year olds just last week, expanding the options for as much as thirteen million more Americans. 
On the other hand, some were hesitant due to the higher rate at which vaccines were produced. They of course want to protect their health. They are more hesitant because mRNA vaccines have never been mass tested before even though they have been researched for over 30 years. This is why the vaccines were developed ("rushed") so fast. Experts caution that as the FDA begins the process to fully approve the Covid-19 vaccine, the number of hesitant populations will hopefully decrease as more shots are jabbed into arms. 
Just yesterday, Florida Governor DeSantis, a long-time Republican, banned the idea of a 'vaccine passport,' (which would mean you would need to show a vaccine passport POSSIBLY to a shop or restaurant, etc…) claiming it infringed "on personal liberties." While DeSantis argues this, Florida has ironically seen an increase in mostly asymptomatic cases of the virus. A wall street reporter called it "dangerous and unethical." 
It is and has become a legal battle why or why not to mandate a vaccine for any person while it is still in phase III trials (EUA) permit. Dr. Fauci says "You don't want to mandate and try and force anyone to take the vaccine. We've never done that. You can mandate certain groups of people like health workers, but for the general population you cannot," Fauci said in August. Although national law makes it very hard to mandate a vaccine, state laws differ. A 1905 Supreme Court Case of Jacobson v. Massachusetts argues that state laws (like Indiana for example) have every right to force a vaccine (particularly for certain groups of people) to protect the general health of the population. 
Hopefully, we can get back to normal within a few months as cases dwindle. Hopefully, we can once again go back to school. Most of all, we may be able to go back to restoring our mental, physical, and social health that have been drastically strained during this pandemic.☆
Links https://www.today.com/health/will-covid-19-vaccine-be-mandatory-t190838