Moulin Rouge Review
Moulin Rouge The Musical! is an exuberant, action-packed show on Broadway at the Al Hirschfeld theater in NYC. The theater itself is not too big so it allows for almost every seat a great view of the stage. When I was told I was going, I had no clue what was in store. But once I entered the theater I knew it would be special. When you first walk in, the set is fascinating, as you can see in the pictures they go all out. There is a working windmill, a giant elephant, chandeliers, a bar, and the enormous neon sign that lights up the entire stage. This musical has the most outrageous set I have ever seen.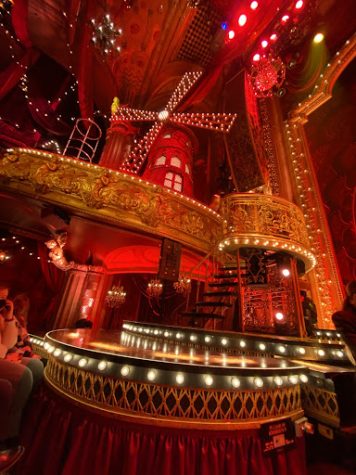 Before the show even began, the actors began walking around, engaging with the audience. With the first song you immediately realize this is no ordinary musical on Broadway. If you were expecting traditional broadway ballads you will not find them here. At first I was a little disappointed, I must admit. But the show quickly won me over with the incredible spectacle I was experiencing. Not only that, the performers were perfectly cast. The singing and acting draws you in, and you forgot about any notion of what a Broadway show was supposed to be. They use great lighting shifts, using rich greens, purples and reds to express different moods. The energy is heightened by the flashing lights, loud songs and confetti (thrown multiple times).The set changes are very smooth, you almost don't even notice because you are mesmerized by the actors' booming voices (This show is not for noise sensitive people).
 Moulin Rouge is a wild, exciting musical filled with pop songs from today. Some songs included are Royals by Lorde, Bad Romance by Lady Gaga, Firework by Katy Perry and 67 others! The play is originally based on a movie by Baz Luhrman. The main story is set in the start of the 20th century, during La Belle Epoque, about a songwriter who comes to Paris in search of success. He wants to put on a show at the Moulin Rouge and ends up falling in love with the star. Some would call it "forbidden love,"which can be cheesy and corny, but all of the wild songs and costumes really bring the whole musical together. 
Eventually you get caught up in the songs, characters, costumes and sets and give in and enjoy this story about love. I really loved this whole show as it was fun and very unique. At some moments I was wondering if it was all the drama in the set, costumes, and technical aspects of it that distracted me from the overarching point of the show. But I believe that if you stripped the musical down to the storyline and the music it would still be an amazing show. As a high schooler this show was very entertaining and there wasn't a moment I was bored. This musical was based in the early 1900's but created a twist by using pop songs to drive the story. This show has been recognized around the world and still I feel that it has not been given the recognition it deserves here in NYC. All in all this exciting, energetic modern tale of a love story dating back to 1889 is captivating for any audience.