Meet Eric Adams
New York City has long anticipated the new mayor and as of midnight on January 1, his term has finally begun. But many people still don't know much about him. So, let's take a look at his life, his plans for our city, and the rocky start to his term.
Background: Who is Eric Adams?
Eric Adams, a lifelong New Yorker, grew up in South Jamaica, raised by a single mother who worked full-time cleaning houses. Adams was beaten by police at the age of 15, prompting him to join the NYPD, hoping to create change from within. During his time with NYPD, Adams continued to protest injustice in the police force, often publicly questioning his superiors. He fought against various forms of corruption in the department, including discrimination, police brutality, and overuse of stop-and-frisk tactics. Adams rose to the rank of captain before leaving the NYPD for politics.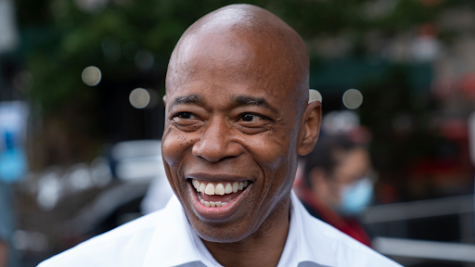 In 2006, Adams ran for State Senate and won, representing parts of central Brooklyn. During his time in the Senate, he fought for legislation in a variety of areas, including protection for tenants and workers, same-sex marraige, and laws fighting gun violence and abuse of stop-and-frisk. In 2013, Adams was elected Brooklyn Borough President, the first person of color to hold this position. He continued to fight for his local community in this role, especially during the COVID-19 pandemic. He slept in his office at Borough Hall, working around the clock to help those in need.
With any political career comes criticism and controversy, and Eric Adams has certainly had his fair share of both. Throughout his time in politics, Adams has pushed the limits of campaign finance laws. For example, Adams created a non-profit that took donations from companies looking for policy changes. However, he said that his campaigns have never been charged "with a serious fund-raising violation, and no contribution has ever affected my decision-making as a public official." He also said that those questioning his ethics were holding him to a higher standard because of his race. In addition, as many people know, during the mayoral race, Adams was accused of living in Fort Lee, New Jersey, rather than Brooklyn, as he claimed. Adams dismissed these allegations as strategy used by his opponents to gain an advantage in the close race for mayor.
Potential Policy: What are Adams' Plans for NYC?
Throughout his campaign, Adams has emphasized public safety and policing as key issues that he plans to address. First, with his police background, Adams feels very strongly about both prevention of violent crime and ensuring fair policing. This combination helped him win the support of working-class Black voters concerned about rising crime in their neighborhoods and familiar with Adams' track record of fighting for police reform from within the NYPD. He plans to reinstate a plainclothes unit of the NYPD, which had previously been disbanded because it had a reputation of using excessive force. In doing so, Adams aims to get guns off of NYC streets. Additionally, he intends to bring back stop-and-frisk practices, but his office will closely monitor these instances to ensure that rights are not violated. Adams has also expressed interest in working with the federal government to crack down on the flow of guns into the city. Finally, he has shown concern over a possible connection between bail reform and the recent rise in violent crime.
Adams has also announced a variety of plans to help address homelessness and housing issues. First, he wants to make assistance with housing part of hospital stays for the homeless. He also wants to create more facilities for mentally ill homeless people. As for affordable housing, Adams supports Mayor DeBlasio's plan to rezone Manhattan's SoHo neighborhood to allow for the creation of hundreds of affordable units. He also supports a proposal to convert hotels and city office space to affordable housing. Finally, he plans to sell the air rights (the right to build in the airspace above a building) to NYC Housing Authority buildings. This would allow private companies to build above existing public housing. Adams has estimated that the sales could yield $8 billion for the city, which he intends to use for improvement to buildings operated by the NYC housing authority.
Adams has plans in other areas as well, including education and transportation. Unlike Mayor De Blasio, Adams has no plans to get rid of the Specialized High School Admissions Test, which many claim keeps minority students out of elite schools, or the Gifted and Talented Program, which critics claim also promotes segregation. However, he does plan to make some important changes to the school system. Adams wants to keep school open year-round, including during the summer. In addition, he plans to expand the Pre-K program, providing low-cost childcare to children under three years old. As for transportation, Adams has promised to add 150 new miles of bus lanes and 300 new miles of protected bike lanes. This will help to encourage alternative modes of transportation over personal cars, which will be beneficial for the environment. He has pledged to "roll back the Robert Moses division of our city and reunite neighborhoods and communities," including by building a freeway lid over the Cross-Bronx Expressway to provide green space to the residents of surrounding neighborhoods, where the expressway has a legacy of destruction and pollution.
Some of Adams' more conservative views have been criticized by progressive leaders, including Alexandria Ocasio-Cortez, and progressive organizations. For example, Alyssa Aguilera, executive director of VOCAL-NY Action Fund said, "Having a former N.Y.P.D. captain in Gracie Mansion" means "further protections and funding for failed law enforcement tactics." "With that framework," she said, "it's hard to believe he's going to make any substantial changes to the size and scope of the N.Y.P.D. and that's what many of us are hoping for." We are only a few weeks into Adams' term, so we will have to wait and see how these planned changes play out and if these fears come to fruition.
So Far in His Term: What has Happened Since Adams Took Office?
Adams' first week in office was as exciting as any, in both good ways and bad. Within his first few days as mayor, he demonstrated confidence and projected himself as a man of the people. First, he was confident and determined in his response to the snowstorm on January 7. He encouraged our sanitation workers, saying, "A COVID storm is not going to stop us, a snowstorm is not going to stop up, an economic storm is not going to stop us. We're going to forge ahead." He also encouraged parents to send their children to school. In addition, Adams visited a firehouse in Queens, sliding down the firepole in his tie and dress slacks. Finally, after witnessing a fight on the sidewalk, Adams called 911, speaking as if he were still a police officer.
Adams' first week also brought plenty of controversy. In a statement asking white-collar workers to return to the office, he referred to low-wage workers as "low-skill." This drew criticism from progessive leaders including, Alexandria Ocasio-Cortez. Additionally, Adams appointed Phillip Banks his deputy mayor of public safety. Banks, a former NYPD chief, left the police department in 2014 during a corruption scandal. Finally, Adams has announced that NYC schools will remain open. Adams said, "I don't want anyone to get this mixed up. Our schools are going to remain open. We are not going to do anything that is going to stop our children from coming into schools." This drew criticism from many concerned parents.
Although some of his actions may raise concern, Adams has been confident and decisive so far and he has many plans for New York City. Only time will tell if he is the change our city is looking for.
Works Cited:
"About Us – New York City's next Mayor – ericadams2021.Com."

Eric Adams 2021

, Eric Adams 2021, https://ericadams2021.com/about/. 

Gold, Michael. "Eric Adams Leads in the Mayor's Race. Here's What to Know About Him." The New York Times, 25 June 2021, www.nytimes.com/2021/06/23/nyregion/who-is-eric-adams.html.

Fitzsimmons, Emma g., et al. "Eric Adams Has Plans for New York, Beyond Public Safety." The New York Times, 20 Oct. 2021, www.nytimes.com/2021/07/10/nyregion/eric-adams-issues-mayor.html.

Kim, Elizabeth. "Eric Adams' First Week As NYC Mayor: A Mix Of 'Swagger' and Controversy." Gothamist, 8 Jan. 2022, gothamist.com/news/eric-adams-first-week-as-nyc-mayor-a-mix-of-swagger-controversy.

Gartland, Michael. "Adams Offers More Clues on His Plans for NYC's Gifted and Talented Program, If Elected Mayor."

New York Daily News

, New York Daily News, 15 Oct. 2021, https://www.nydailynews.com/news/politics/new-york-elections-government/ny-nyc-mayoral-race-eric-adams-gifted-and-talented-public-schools-20211015-ki7wwxoprrduxg2vrauytatd74-story.html.

Duddridge, Natalie. "As NYC, Teachers Union Discuss Remote Option, Mayor Adams Reiterates 'Our Schools Are Going To Remain Open.'" CBS New York, CBS New York, 19 January 2022, https://newyork.cbslocal.com/2022/01/19/nyc-schools-return-as-remote-learning-talks-continue/. Accessed 20 January 2022.