Eric Adams: A Potential Mayor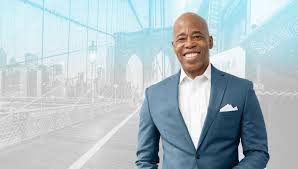 Eric Adams: A Potential Mayor
by Evelyn Mullen Walsh
Eric Adams launched his campaign for Mayor of the City of New York on November 18th, 2020, running as a Democrat in a rather crowded field.  This comes after 22 years in the New York City Police department, initially as a transit cop, and later a Captain in the NYPD. He has also been a State Senator and is presently the Brooklyn Borough President. Adams was born in Brownsville, Brooklyn, and raised between Jamaica and Bushwick, as one of 6 children. He and his brother were arrested as teenagers and brutally assaulted by members of the police department, until a Black officer intervened. Mr. Adams has stated that this was when he decided to be an officer.
 One of Mr. Adams' main goals as a politician is to better the relationship between police and the general public. While a cop, Adams founded "100 Blacks in Law Enforcement Who Care", an organization which aims to combat racial inequalities from within the police department. As he is an African-American male, employed as an officer for such a considerable time, he has experienced both sides of the divide which is something he is able to capitalize on. 
Mr. Adams' primary program priorities, as stated on his campaign website, are on public safety, the economy, education, healthcare, and housing. Mr. Adams, along with Andrew Yang, is definitely one of the more moderate candidates in the race in comparison to Scott Stringer or Maya Wiley, and has put quite a lot of emphasis on improving systems, such as the police department, as opposed to more drastic changes and re-workings. In terms of healthcare, Mr. Adams' priorities are on closing racial disparities present in percentages of chronic illnesses as well as other serious health issues, creating a more united hospital system, and preventing illness by encouraging healthier habits. Mr. Adams, who was diagnosed with Type 2 Diabetes in 2016, completely changed his diet to a plant-based one and was able to reverse his diagnosis in less than a year. He would be a prime example of improving health through the changing of habits, and in fact wrote a book on his experience and health recommendations. 
Adams is a proponent of affordable housing, and caused some controversy with one of his statements in January 2020 in which he expressed that Midwesteners who moved to New York  and had, according to him, raised rents and taken apartments from born-and-bred New Yorkers, should go back to Iowa. When it comes to education, Adams supports expanding summer school for students who need it, providing needed childcare for parents, and identifying out-of-school factors that could be impacting students' work and success in schools. Eric Adams won his most recent Brooklyn Borough President election with roughly 83 percent of the vote. Mr. Adams resides in Bedford-Stuyvesant, Brooklyn and has a twenty-four year old son.