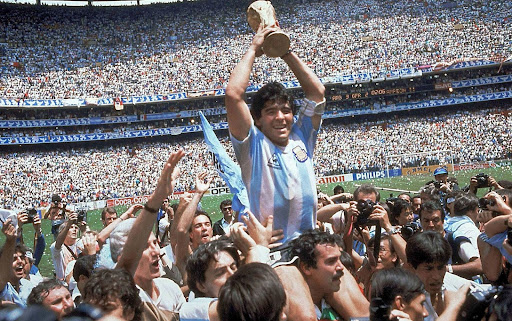 Diego Maradona with Team Argentina winning the 1986 World Cup 
Remember when Argentine won the 2022 Fifa World Cup? Lionel Messi was the GOAT. But do we also remember the 1986 World Cup? Messi wasn't there, but an Argentina soccer star was.

Ever since the first Fifa World Cup in 1930, there have been several great players like ​Pelé to Zinedine Zidane, and there have been hundreds of iconic soccer (or fútbol) players throughout the 20th and 21st centuries. One of the most talented players is from Argentina. No, not Lionel Messi. Not Javier Zanetti. It's Diego Maradona. 
Armando's Early Life
Diego Armando Maradona was born on October 30, 1996 in Villa Fiorito, Buenos Aires, Argentina. He was one of many children that his parents, Diego Sr. and Dalma Salvadora Franco, had and in an impoverished family. Maradona got his first soccer ball (or football) when he was three years old and eventually became an exceptional player at a young age, having insane devotion to the sport. When he was eight, he joined Las Cebollitas, The Little Onions, winning 136 consecutive games and a national championship alongside his team. At fourteen years old, Maradona signed a contract with the Argentinos Juniors, making his debut for Argentina's first-division a few days before his sixteenth birthday. Months later, he debuted for Argentina's national team, becoming the youngest player to ever play in international games. However, he was too young, and in the following year he would play for the under-20 (U-20) team toward a Junior World Cup championship. 
His Professional Football Career
In 1981, he played for Club Atlético Boca Juniors, an Argentine professional football (soccer) club. Maradona's soccer career grew when he moved to Europe to play for other teams. In 1984, Maradona signed with the Società Sportiva Calcio (SSC) Napoli football club in Naples for years. Maradona quickly became a full inspiration for Neapolitians. He held the title for the leading goal scorer for Napoli for years until 2019. His precise talent landed him as captain of the team, making Napoli one of the finest Italian teams, leading them to win the Serie A title, and making Napoli one of the most popular choices for Italian Soccer. Moving from Napoli, Maradona also played in Spain for the FC Barcelona team in 1982, leading them to many championships for years. But his particular fame came from his time playing for the Argentina national team at the age of 16. Some of the most famous moments of his career came in 1986, when Argentina qualified for the finals against Germany, leading the Argentine team to win their second World Cup Trophy. Another notable moment was a controversial goal in the semi-finals when he scored with his hands, to which he called "The Hand of God." Maradona played in four world cups and scored thirty-four goals during his international appearances. 
A Little About His Personal Life
Although his fame and high-achieving career was outstanding, Maradona's personal life was quite contradictory. Maradona often had problems, notably drug addictions, barring him from participating in the 1994 World Cup after testing positive. Maradona was expelled out of the Napoli Club for this very reason. In Argentina, he was also arrested for possessing cocaine and other substances. Maradona also had problems with his heart later in life. He was hospitalized often in the early 2000s due to heart-related issues, which even led him to get surgery and use a respirator. In 2008, Maradona got the opportunity to coach the Argentinian national team and got to coach Messi. This was eventually for the worst, however, as Argentina lost to Germany in the 2010 World Cup during the quarter-finals.
Diego Maradona eventually passed away on November 25, 2020. He was 60 years old.
Impact and Inspiration
Diego Maradona is one of the greatest stars in football (or soccer) history. Even though he's had a few twists and turns throughout his life, he has had much of an impact on modern soccer. He trained a player that some say may be the greatest player of all time (GOAT), Lionel Messi. Maradona also has many icon cards in the FIFA series games made by EA Sports. However, due to a third-party legal dispute, he was no longer in EA's FIFA games since FIFA 22. Diego Maradona has inspired millions with his creative style of play, charisma, leadership qualities, and potentially inspire our Millennium soccer team to push themselves and practice with experience.
Diego Maradona's Icon Moments Card in FIFA 21
References
Athletes, Famous. "Diego Maradona – Death, Career & Facts."

Biography

, https://www.facebook.com/Biography, 26 Mar. 2021, https://www.biography.com/athletes/diego-maradona.

"Diego Maradona."

Encyclopædia Britannica

, Encyclopædia Britannica, 21 Sept. 2023, https://www.britannica.com/biography/Diego-Maradona.

"—."

Adelphi

, https://home.adelphi.edu/~er22301/Playerhistory.html. Accessed 19 Oct. 2023.

Porzio, Francesco. "Diego Maradona Made Napoli Believe, Aurelio De Laurentiis Rebuilt Them and Luciano Spalletti Let Them Play – CBSSports.Com."

CBSSports.Com

, https://www.facebook.com/cbssports, 4 May 2023, https://www.cbssports.com/soccer/news/diego-maradona-made-napoli-believeaurelio-de-laurentiis-rebuilt-them-and-luciano-spalletti-let-them-play/.

SportyTell Editors. "Diego Maradona Biography, Childhood, Career, Personal Life | SportyTell."

SportyTell

, https://facebook.com/sportytell, 26 Apr. 2020, https://sportytell.com/biography/diego-maradona-biography-childhood-career-personal-life/.