Historical Black Figures: Black History Month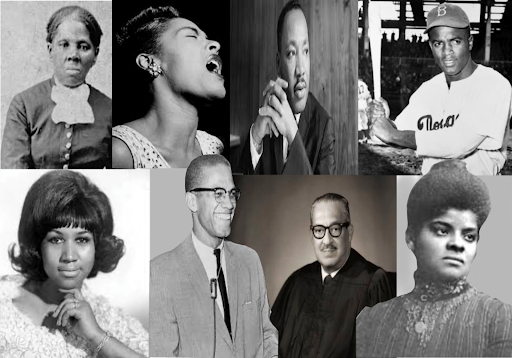 In our Country's history, there have been many different historical Black Figures who have fought for equality and freedom in the Black community and minority communities alike. February is Black History Month, and in this time it is especially important to learn more about Black communities, and the fight for equality and equity in America. 
Martin Luther King Jr. graduated from Morehouse College in 1948 at nineteen years old! During the Montgomery bus boycott he was the President of the protest. King held a leadership role in the famous March on Washington in 1963, where he gave his famous "I have a dream" speech. This speech highlights the daily struggle that African Americans have faced for centuries. The following year, King won a Nobel Peace Prize, becoming the youngest recipient of the award at the time.
Harriet Tubman was an enslaved woman who became an abolitionist and social activist in the 1800's. Tubman rescued many enslaved people and brought them to freedom using the Underground Railroad, which was a hidden network of people that offered aid to enslaved individuals during their journey to the North. Throughout the 1850s and 1860s, she made nineteen trips to the South. Later, during the Civil War, Harriet served as a scout, spy, soldier, and nurse in the Union Army. In June of 1863, she became the first woman to lead an armed military raid while she was in Combahee Ferry, South Carolina. Harriet was also a part of the suffragist movement that fought for women's rights.
Billie Holiday was born on April 7, 1915. Even as an untrained jazz singer, Billie Holiday was the first African American woman to work with an all-white band. Holiday's songs held deep meanings; for instance, one of her most famous songs, "Strange Fruit", was a symbolic representation of lynchings in the South. This was one of the first songs a woman wrote as a civil rights protest song, and it was inducted into the Grammy Hall of Fame in 1978. 
Aretha Franklin was born in Memphis, Tennessee, on March 25, 1942. Franklin was a bestselling soul artist, and during her career, she sold over seventy-five million records. Aretha wrote a song titled "Respect", which became an anthem for the civil rights movement. Aretha won both the Grammy Legend Award and Lifetime Achievement Award, and was the first woman inducted into the Rock and Roll Hall of Fame. Additionally, Franklin is the number one singer in. Rolling Stone's "200 Greatest Artists of All Time". 
Malcolm X was born on May 19, 1925, and was a human rights activist and a Muslim minister during the civil rights movement. Malcolm X supported Black Nationalism and believed Black Americans should protect themselves against white aggression by any means necessary. He developed new ideas about self-defense, which empowered Black individuals since these ideals contradicted the portrayal of Black people in America during this time.
Jackie Robinson was an American professional baseball player, and the first African American to play in Major League Baseball. He started at first base for the Brooklyn Dodgers on April 15, 1947. Later, in 1955 he won the World Series with the Brooklyn Dodgers. Robinson broke barriers for many African American athletes who wanted to pursue a professional career in sports. Robinson was hit by 70 pitches during his career, but he refused to fight or taunt those who taunted him. Robinson inspires athletes everywhere who face resistance when doing what they love.
Thurgood Marshall was born on July 2, 1908, and graduated from Howard University, one of the famed Historical Black Universities and Colleges. Marshall was an American civil rights lawyer who also served as an Associate Justice of the Supreme Court from 1967 to 1991. He was the first African American to be appointed to the Supreme Court, and during the Civil Rights movement, he fought for desegregation in the US and won twenty-nine of his thirty-two cases, all of which contributed to the success of the Civil Rights Movement. 
Ida B. Wells was a journalist, activist, and researcher. She was a fierce woman, who led an inspiring anti-lynching movement across the United States and played a role in the women's suffrage movement. In addition, Wells played a crucial role in the founding of the NAACP, an organization that contributed to the success of the Civil Rights Movement as they fought against racial violence, discrimination in employment, and denial of voting rights. Wells was a successful writer who campaigned against violence towards African Americans and Black individuals. Ida started her newspaper, "Free Speech," where she wrote about racial discrimination and segregation. Ida also was an educator who created the first African American kindergarten in Chicago. 
In closing, these revolutionary people have influenced our country's culture, and they deserve to be celebrated and remembered by future generations. Therefore, it is essential to respect and remember Black History during this month, and celebrate Black culture, a culture that makes up our past and shapes our future.