The Terrifying Connection Between Porn and Sex Trafficking
Your guilty pleasure gets far guiltier – from your couch, you could be helping traffickers worldwide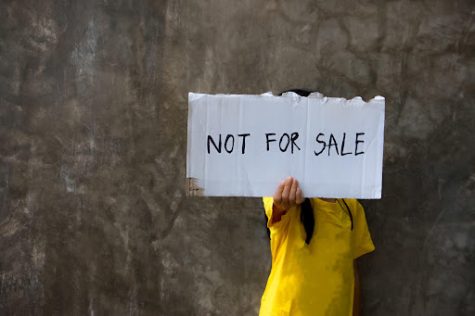 There are few things more emblematic of teenage boyhood than the classic movie scene: a suburban mother's leather heels clicking against the floor as she walks to her son's room. Seconds later come shrieks and a slammed door – she's caught him, the charade is over, and the crowd, like always, eats it up. Next to you, your own mother laughs abashedly. Because the boy, just like 134,000 people every minute, was watching porn. 
It used to be the unspoken wet sock in the bedroom, but in today's zeitgeist, the stigma around porn appears to be slowly fading away. Your uncle's toes are on OnlyFans, and Cosmopolitan explains the Top Ten Reasons Why Self Pleasure is Self Care. But behind this influencer-induced fad of sexual liberation lurks an alarming reality – with what you think is a harmless click of a video could actually be a contribution to the sexual exploitation of an innocent victim. It is undeniable that the porn industry and sex trafficking have a symbiotic relationship: porn perpetuates sex trafficking and sex trafficking helps the industry grow. Traffickers use porn to exploit innocent victims, and the lack of internet regulation makes this far easier than many assume.
The average age of a sex trafficking victim is 12. For most people, 12 means being upset about your first zit and the fact that your older brother refuses to drive you to the mall. But for the thousands of victims sex trafficked annually, 12 means continued abuse at the hand of a trafficker. 12 means daily beatings, forced intercourse, and emotional abuse. 12 means living on the streets, having lifelong PTSD, and facing strained familial relationships. 
And for these victims, the porn industry – in all its newfound glitz and glamor – intensifies the experience ten-fold. The demand for young, attractive, and inexperienced performers incentivizes traffickers to target vulnerable individuals who fit this description – the younger, the better. Obviously, there is no power in the phrase "underage"; in Florida, a missing 15-year-old girl was only found months later because she was featured in 58 adult videos. She may have escaped the trafficking, but it will always be impossible for her to escape the videos. Pornhub, Periscope, Modelhub and Snapchat will forever control her life.
The connections between porn and sex trafficking are endless. Almost fifty percent of sexually exploited women in nine countries reported being forced into pornography while sold for sex. Many victims are forced to perform in videos to pay off "debts" they incurred during their trafficking. Even more often, traffickers will use videos of victims as blackmail to prevent their escape or emotionally hold against them. 
But all these facts may come as a surprise as a result of the porn industry's successful "rebranding" of itself. Now, many see porn as hip and empowering. It's safe sex work; women are making millions by manipulating men's sexual desires and misogyny. And it's true that the business is there, but for most porn "stars," the empowerment most certainly is not.
Every year, the porn industry makes 13 billion dollars, which is more than the combined annual revenues of ABC, NBC, and CBS. This would not be such a big issue if 88% of porn did not contain scenes of violence against women. Moreover, the normalization of "rape kinks" and other disturbing types of videos desensitize people to the harsh reality of the industry: there is no way to know if someone is consensually performing in a film – or if they are underage. Child porn is almost 100% of the time produced in sex trafficking or other exploitative industries, and in 2019, there were a reported 45 million online photos and videos of children being sexually abused. That's more than double the amount of the previous year. One can only imagine the number exponentially growing. 
Unless there is concrete change, the number will continue to grow. Unless porn is legitimately regulated, victims of sex trafficking will continue to be abused without anybody knowing. But help does not necessarily need to come from the government or the websites themselves – anyone can report signs of sex trafficking.
Brooklyn documentarian Danielle Rose, whose film tells the stories of three New York City victims, warns us: "Every single victim has a story that someone can relate to." She notices a paradigm shift after people watch her film, hearing them say, "Wow this could've been me."
Most people, however, initially assume that trafficking only happens somewhere in the basements of rural Minnesota or on a dark Columbian street corner. But with proper education around trafficking awareness, its omnipresence becomes clear. Victims are certainly on the internet, and it's very possible that they've been on your block or inside your grocery store as well. And while nobody is ever going to stop watching porn, it is possible to sever the rope connecting porn and sex trafficking. Ultimately, that is what must be done – before this rope continues to inhibit more victims from finding freedom. 
Works Cited
Gender Differences in Pornography Use and Associated Factors among High School Students: A Cross-Sectional Study

. University of Duhok, https://www.medrxiv.org/content/10.1101/2023.02.07.23285491v1.full.pdf.

Accessed 2 May 2023.

Sanchez, Erika. "8 Health Benefits of Masturbation."

Cosmopolitan

, Cosmopolitan, 25 Aug. 2022, https://www.cosmopolitan.com/sex-love/news/a36484/benefits-of-masturbation/. Accessed 2 May 2023.

"Human Trafficking Fact Sheet."

Human Trafficking Fact Sheet | Attorney General Brian Schwalb

, https://oag.dc.gov/public-safety/human-trafficking-initiatives/human-trafficking-fact-sheet. Accessed 2 May 2023.

"'Only One out of 100 People Are Rescued' from Human Trafficking | | UN News."

United Nations

, United Nations, https://news.un.org/en/audio/2016/07/615462.  Accessed 2 May 2023.

Hamilton, Katherine. "Here's How Your Porn Habit Could Be Helping Human Sex Traffickers."

NBC2 News

, 7 June 2021, https://nbc-2.com/news/2021/01/12/heres-how-your-porn-habit-could-be-helping-human-sex-traffickers/amp/. Accessed 2 May 2023.

Blackford, Jaclyn. "Pornography Is a Driving Factor for Trafficking and Sexual Exploitation."

Freedom 4/24

, Freedom 4/24, 31 Mar. 2020, https://www.freedom424.org/blog/porn-trafficking. Accessed 2 May 2023.

"Enough Is Enough: The Porn Industry Archives."

Enough Is Enough: The Porn Industry Archives

, https://enough.org/stats_porn_industry_archives#:~:text=The%20pornography%20industry%20generates%20%2412,Family%20Safe%20Media. 

Accessed 2 May 2023.

Keller, Michael H., and Gabriel J. X. "The Internet Is Overrun with Images of Child Sexual Abuse. What Went Wrong?"

The New York Times

, The New York Times, 29 Sept. 2019, https://www.nytimes.com/interactive/2019/09/28/us/child-sex-abuse.html. Accessed 2 May 2023.

Powell, Tiffany. "Institutions of Higher Violence: The Influence of Pornography on College Sexual Assault."

NCOSE

, 15 June 2021, https://endsexualexploitation.org/articles/institutions-of-higher-violence-the-influence-of-pornography-on-college-sexual-assault/#:~:text=Of%20the%2050%20most%20common,of%20videos%20contained%20nonconsensual%20aggression. Accessed 2 May 2023.