Ms. Dang and Mr. Kline Teacher Feature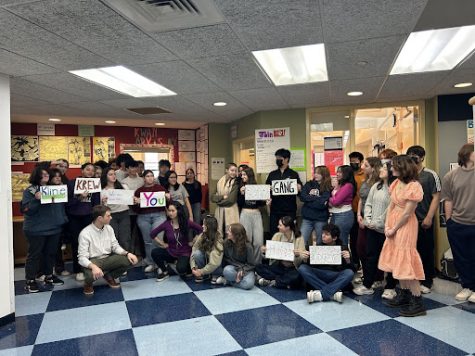 (Image to the left: Ms. Dang's and Mr. Kline's "rival" advisories)
Ms. Dang and Mr. Kline are two of the many adored teachers here at Millennium and they have been teaching algebra alongside each other for six years now! In addition to teaching Algebra 2, Ms. Dang teaches AP Statistics, whereas Mr. Kline teaches Foundations of Music and is also the advisor for Millennium's math team. But what you might not have known about the two is that Ms. Dang was a member of the Future Farmers of America (FFA) in high school, and Mr. Kline used to live in Scotland!
From 2015 to 2017, Ms. Dang was a preschool teacher, and for several years after graduating from college, Mr. Kline taught at a private school in Scotland. Then, both Dang and Kline taught at Murray hill Academy, a school that they both agree provides a very different teaching experience from the one they've had at Millennium. The school and class sizes were much smaller, but the two still enjoyed working with the students and staff.
In general, both teachers have had a great experience at Millennium. The staff and students are what make teaching at Millennium such a rewarding experience. Mr. Kline appreciates that he can always come into work and face a new challenge. "Every day is different," he says. Both Dang and Kline's favorite thing about being a teacher is supporting their students while watching them learn and grow. Overall, Ms. Dang and Mr. Kline have had an amazing experience working together especially after years of teaching algebra together. They have a playful dynamic and Ms. Dang even teases that they are "rival" algebra teachers. All jokes aside, Dang explained that working side by side with Mr. Kline has been a great help because the two can collaborate on math problems and any conflicts in general together.